King of Queens:
Season 9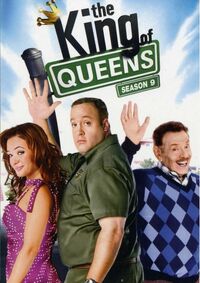 Season 8 DVD box cover
First episode aired:
"Mama Cast", aired December 6, 2006
Season/Series finale aired:
"China Syndrome, Parts 1 & 2", aired May 14, 2007
Episodes aired:
13 aired during Season
Network
CBS-TV
Previous Season:
Season 8
Next Season:
None - end of series
return to Season 1
This Season 9 guide contains the episode listing for the ninth and final season of King of Queens after Season 8. The first episode of the season, Mama Cast, premiered on December 6, 2006. The series last episode was the second of a two episode series finale story, China Syndrome, where Doug and Carrie adopt a child from China, and Carrie finds out that she is also pregnant, which was aired on May 14, 2007.
Episode Guide
Edit
Season 9 (2006–2007)
Edit
Season 9
Image
Title
Original airdate
Written by
Directed by
Episode #
Episode Total #
Prod. code
"Mama Cast"
December 6, 2006
Mike Soccio & Ilana Wernick
Rob Schiller
1
195
901
Doug invests their tax return in an ice cream truck. Initially cold to the idea of Doug driving a truck on the side (his main career being an IPS truck driver), Carrie warms up when she sees how excited he is about the prospect. Meanwhile, Carrie plays the mom in a model home family, causing her to yearn for a real family of her own.
"Affair Trade"
December 6, 2006
Rock Reuben & Dennis Regan
Rob Schiller
2
196
902
Doug receives suggestive phone messages from a woman (Leigh-Allyn Baker) who thinks she spent a weekend with him at the beach, so he must hide the messages from Carrie while he tries to let the woman know she has the wrong man.
"Moxie Moron"
December 13, 2006
Liz Astrof Aronauer & Owen Ellickson
Rob Schiller
3
197
903
Doug becomes the interim boss at IPS, but pretty much does the worst job imaginable. One of Carrie's co-workers "steals her moxie" so she vows to become more noticeable at her job. The plan backfires when she realizes there are downsides to getting noticed.
"Major Disturbance"
December 13, 2006
Rock Reuben & Ilana Wernick
Rob Schiller
4
198
904

Doug at at attempted to kill major, but he was not authorized 

that sounds are not allowed in this country

and he does not do it

"Ruff Goin"
December 20, 2006
David Bickel & Chris Downey
Rob Schiller
5
199
905
Doug adopts a dog, but when the dog begins to take after Doug and Arthur, Carrie quickly grows tired of having three lazy boys hanging around the house. Trying to get rid of the dog proves useless until a very interesting buyer steps up.
"Brace Yourself"
January 3, 2007
David Bickel & Chris Downey
Rob Schiller
6
200
906
Major's drawing of Arthur makes him self-conscious to the point of asking Doug and Carrie for braces for his teeth. Doug and Carrie are reluctant to say yes. Meanwhile, Spence loses his job in the subway so Kelly hires him to help out around their house.
"Home Cheapo"
April 9, 2007
Liz Astrof Aronauer & Ilana Wernick
Rob Schiller
7
201
907
Carrie is upset when she learns that Deacon and Kelly bought a vacation house. She believes they were able to afford it because they are cheap and freeload off of her and Doug. Elsewhere, Arthur gives job-hunting tips to Spence.
"Offensive Fowl"
April 16, 2007
David Bickel & Chris Downey
Rob Schiller
8
202
908
Doug becomes a vegetarian after hitting, and nearly killing, a chicken with his IPS truck. Carrie quickly tires of having to eat meat in private because of Doug forcing his new beliefs onto her.
"Mild Bunch"
April 23, 2007
Liz Astrof Aronauer & Owen Ellickson
Rob Schiller
9
203
909
At his high school reunion, Doug and Jeff Sussman (Adam Sandler), an old classmate who is now a vice principal plot revenge on their principal. Meanwhile, Carrie and Arthur try hard to find a movie to watch which they will both enjoy.
"Manhattan Project"
April 30, 2007
Rock Reuben
Rob Schiller
10
204
910
Carrie wants to move to an apartment in Manhattan, but Doug wants to stay in Queens. Their impasse makes them realize they have very different ideas about their future, with Carrie ultimately moving to the apartment without Doug. Meanwhile at the senior center, Arthur encounters an old singer (Lainie Kazan) whom he trains and eventually becomes engaged to.
"Single Spaced"
May 7, 2007
Story by: Ilana Wernick


Teleplay by: David Bickel & Chris Downey

Rob Schiller
11
205
911
Doug and Carrie consider adopting a baby after they get marriage counseling from their priest and run into friends who recently had a child. But, while Doug holds up his end of the bargain and gets a new job, Carrie secretly keeps the apartment.
"China Syndrome (Part 1)"
May 14, 2007
Michael J. Weithorn
Rob Schiller
12
206
912
Series Finale: Doug, having discovered that Carrie did not get rid of her apartment in the city, tells her that he wants a divorce. Carrie wants to stay together and plans to go to China to pick up their adopted child. Also, Arthur's bride leaves him just before the wedding, believing that he was gay the whole time. At the last minute, Arthur asks Spence's mother to marry him. First part of two-episode story.
"China Syndrome (Part 2)"
May 14, 2007
Michael J. Weithorn
Rob Schiller
13
207
913
Series Finale: In the second part of the two-episode finale, Doug and Carrie race to China, each attempting to claim their baby before the other. On the way, they reconcile. Carrie finds out after adopting that she is pregnant, and she is overwhelmed. A flash forward to a year later shows a messy, hectic household with both Doug and Carrie struggling to care for two small children, when Arthur suddenly returns because his marriage does not work out.