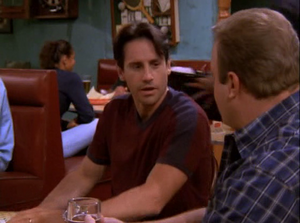 Richie Lannucci is an old high school classmate and longtime friend of Doug's that he was regularly seen hanging out with in the early seasons. A FDNY firefighter, Richie, who usually refers to Doug as "Moose" (after the Archie comics character Moose Mason), and is also know for being a big womanizer, and in the past even picked up Carrie and her friend. The friend liked Richie but Carrie did not, so Richie went with the friend and Doug and Carrie got together.
He has an exuberant girlfirend, Marie (Michele Maika), who is disliked by Carrie and outed as a cheater. When Richie and Marie then seek counseling, Marie runs off with the counselor (s1e4 "Richie's Song").
He was written out of the show when his actor who played the part, Larry Romano, asked to leave for another sitcom. His final appearance is in Paint Misbehavin in season three, his only appearance in Season 3. He could also be briefly seen in the ending montage in the series finale episode, China Syndrome.
Richie dated Doug's sister, Stephanie, twice.