Marshaun Daniel
File:Nla-7on7-marshaun-daniel.jpg
Marshaun Daniel, Kirby, is now a highly sought after football prospect from the graduating class of 2013.
Vital statistics
Gender:
Male
Born:
1995
Birthplace
Tustin, California, U.S.
Occupation
Actor/Athlete
Family and Personal
Character information
Appeared on:
The King of Queens
Appears as:
Kirby Palmer
Marshaun Daniel (born 1995) played the part of Deacon and Kelly's oldest son Kirby Palmer for a total of 4 seasons on The King of Queens. Now a much sought after prep football star and highly academic achiever, Marshaun, who now stands at 5"11 and 215 lbs., has played varsity football at Tustin High School in Tustin, CA for the past few years, playing several positions, most notably outside linebacker, where he was all-state. He is a blue-chip prospect who is sought after by numerous college programs around the country, and has been featured on both ESPNGo, and the Fox Sports Nextwebsites.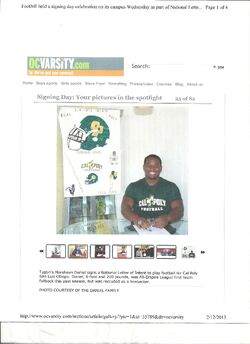 External links
Edit
Ad blocker interference detected!
Wikia is a free-to-use site that makes money from advertising. We have a modified experience for viewers using ad blockers

Wikia is not accessible if you've made further modifications. Remove the custom ad blocker rule(s) and the page will load as expected.