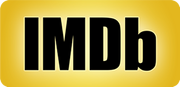 The Internet Movie Database (IMDb) is an online database of information related to films, television programs, actors, production crew personnel, video games and fictional characters featured in visual entertainment media. It is one of the most popular online entertainment destinations, with over 100 million unique users each month and a solid and rapidly growing mobile presence.[1] IMDb was launched on October 17, 1990, and in 1998 was acquired by Amazon.com. As of October 12, 2012, IMDb had 2,425,902 titles and 5,315,404 personalities in its database.[2]
References
Edit
Ad blocker interference detected!
Wikia is a free-to-use site that makes money from advertising. We have a modified experience for viewers using ad blockers

Wikia is not accessible if you've made further modifications. Remove the custom ad blocker rule(s) and the page will load as expected.