Arthur Eugene Spooner is the tritagonist and one of the 3 central characters on The King of Queens. He is Carrie's father and he moved into their house in the basement after he burned his own house down by cooking on his old hotplate in the Pilot. It is revealed later that he does this on purpose to get closer. Arthur has had multiple wives and dozens of jobs. In the beginning of the series, he had another daughter, Sarah Spooner, who also lived with the Heffernans but in the middle of the first season, she was written out of the series. In later episodes, Sarah is never mentioned and it has been said that Carrie is an only child. He is portrayed by Jerry Stiller, comedian-actor Ben Stiller's father.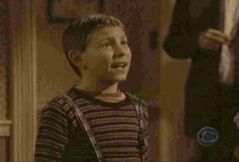 Arthur often states that he had close to 200 jobs in his lifetime.
Before KoQ:

"In and out of" marketing for almost 8 months (1950s)
Production assistant on 'Sesame Street' (Early to mid-March 1976)
Actor

Season 1:

Ribbon salesman
Monogrammed bowling balls (replaced by machine)
Pretzel shop in mall (early in the series)

Season 9:

Self-employed: Renting himself and other seniors out to accompany people who want to use the carpool lane
Employee in a publishing company (under the fake name 'Claude Gable', stole the job from Spence)
Entertainment director at the Senior Center (probably unpaid)
Arthur is a very good ping-pong player.
Arthur always cheats at board games, and this would rub off on Carrie.
Carrie's original name was Simone, but he lost the name in a poker game with Uncle Chester.
Arthur used to be addicted to gambling and nasal spray.
Arthur was born in 1925 and served in the U.S. Army during World War II.
Arthur usually fits in Doug's friends Deacon, Spence and Danny.
People do love his war stories in World War II
Holly is the daughter that Arthur always wanted, no offense to Carrie.
Arthur was an actor and performer prior to Carrie being born, but gave it up because he wanted to be there for his daughter throughout her childhood.
Arthur is a communist, and has referred to the Soviet Union as a "workers paradise".
Ad blocker interference detected!
Wikia is a free-to-use site that makes money from advertising. We have a modified experience for viewers using ad blockers

Wikia is not accessible if you've made further modifications. Remove the custom ad blocker rule(s) and the page will load as expected.